Veranda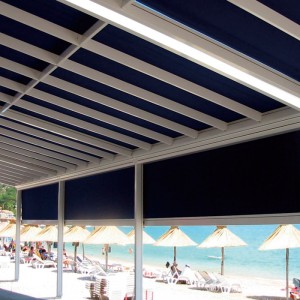 The Veranda awning can be fitted on the outside of both domestic and commercial buildings: pubs, restaurants, hotels or your own patio will be transformed into an available outdoor room, whether as a smoking space or as a dining area/additional room.
Strong aluminium framed structure with side guides and substantial front bar, phosphochromatising on exposed aluminium components.
The curve is available with three substantial profiles, onto which rigid aluminium roof trusses and front legs are fixed, with fully adjustable pitch from 8° to 52°. Cover can drop down past the front of the projection to the ground and tension on the cloth is maintained by belts and mechanical tension springs in the front legs. Thanks to its particular construction, the Veranda model can ensure the traction of the fabric at any position, however, the front profile has to be extended past the curve, in order to make the best use of the awning. In that position the cover reaches its
maximum tension, thus becoming wind-resistant and able to bear the weight of the rain water. Specifically designed for protection from the sun and for use in wet conditions, the Veranda construction combined even with the smallest pitch ensures any rainfall flows away, if the awning remains extended during light shower or rain. Motorised operation using single or double motors for models A11 single unit, A12 single, double or three units, whereas A13 single or double units with FTS system. Up to 15m with three units and ONE PIECE OF FABRIC. When used with retractable rollerblinds or polycarbonate system it provides fully watertight, enclosed and heatable structures for use throughout the year.
Property






Serial

Options







Systems tested by TÜV Rheinland Group Italy          NORMATIVE EN 1932
Class of wind resistance

Beaufort

p(N/m

2

)

W(Km/h)

3

6

110

50

MAXIMUM MEASURE WIDTH x PROJECTION

cm 1500 x 700