Luxus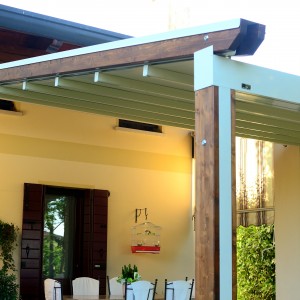 Specifically designed for protection from the sun and for use in wet conditions, wind-resistant thanks to its unique shape, the awning sits within a timber frame made of glulam pinewood, enriched with aluminium profiles.
The awning system runs on guides, the fabric is retracted forming regular valances supported by horizontal profiles every 55-65 cm and by two front profiles. Traction of the fabric is ensured at awning fully extended. Single unit max 5m wide, coupling units up to 15m wide with a single piece of fabric. Motor operated.
Wind resistance guaranteed to class 3 comply with Norm EN 1932. When installed with side and front closings it provides fully watertight, enclosed and heatable structure for use throughout the year.
Property






Serial


Options




Systems tested by TÜV Rheinland Group Italy          NORMATIVE EN 1932
Class of wind resistance

Beaufort

p(N/m

2

)

W(Km/h)

3

6

110

50

MAXIMUM MEASURE WIDTH x PROJECTION

cm 1500 x 650